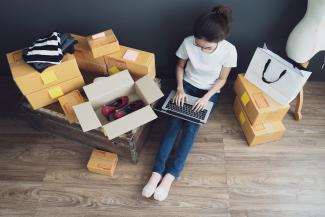 Break the Cycle of Impulse Buying
There are a couple of reasons why we might make impulsive purchases. One reason is that we want to feel good. When we buy something new, it gives us a temporary boost of happiness. This is why we often associate shopping with pleasure. Another reason might be that we are trying to fill a void in our lives. Buying something new can give us a sense of satisfaction, even if it is only temporary.
Although it may feel good in the moment, these impulsive purchases can impact our financial goals. So, how can we break the cycle of impulsive buying? Here are a few tips:
Wait 24 hours before making a purchase. This will give you time to think about whether you really need the item.

Set an intention before you go shopping. This will help you stay focused and purchase only things that you intended to buy.

Avoid shopping when you are feeling stressed or emotional. This will help you avoid making pleasure-seeking purchases.

Find a trusted accountability partner. They can help you stay accountable for your spending and be someone to talk with in those impulsive moments.

Shift your mindset from instant gratification to delayed gratification. Putting off impulsive purchases today could mean greater spending potential later. For example, this could be saving for retirement or creating experiences with loved ones.
By following these tips, you can begin to break the cycle of impulsive buying and make mindful spending decisions. Remember, it is okay to treat yourself sometimes. However, it is also important to make sure you are on target with your short and long-term financial goals.
---
Information in this material is for general information only and not intended as investment, tax, or legal advice. Please consult the appropriate professionals for specific information regarding your individual situation prior to making any financial decision.  
Email me your questions at info@financialfreedomwmg.com or call 541-574-6464.  You can also post your question on our Facebook page: https://www.facebook.com/FinancialFreedomWealthManagementGroup or find us on Instagram @financialfreedomwmg.