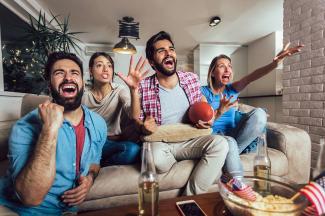 Can the Super Bowl Improve Your finances?
I am going to say yes. Let us discuss how watching the upcoming Super Bowl might help you meet a few financial goals of your own. The game and specifically how it's structured can offer money lessons and inspiration that we can apply to our financial life.
First, have a game plan!  Your money needs a plan.  You cannot sit back and wait for financial independence to find you.  You must take control, define your financial future, and then create a pro-active plan that will guide you to the end zone.
Take advantage of the 1st and 2nd quarters. Early in the game we try to figure out who the opponents are and how to play the game.  It's the same with money.  Early in life we don't know much about finances and schools don't do a great job teaching personal finance.  If financial mistakes are made early there is plenty of time to make it up.  As we mature into the 2nd quarter, we begin to understand our strengths and weaknesses and how to play the game.
Don't give up at halftime.  How many Super Bowls look like a defeat at halftime, only to turn around in the second half? Mid life can bring challenges for many adults.  Kids are in teenage years, possibly college costs are mounting up, drowning in debt or an unexpected job change can set us back.  Don't give up! It is never too late to recommit to your financial goals and go for the win.
Beware of the 3rd and 4th quarters.  As the end of the game nears the more unforgiving it can be, and risky moves rarely end well.  For your finances, this is your retirement.  As it nears you will likely experience peak earning years; the kids are independent, and this provides opportunity to make up for lost time.  Paying off debt and maxing out your retirement contributions are key plays in crossing the goal line. Do not let desperation drive you to take chances and unnecessary risks in your investment portfolio.  Stick to your plan and you will likely win.
If you need help with developing your financial game plan, please reach out to us.  We would be happy to help.
Information in this material is for general information only and not intended as investment, tax or legal advice. Please consult the appropriate professionals for specific information regarding your individual situation prior to making any financial decision.
Email me your questions at financial.freedom@lpl.com or call 541-574-6464.  You can also post you question on our Facebook page: https://www.facebook.com/FinancialFreedomWealthManagementGroup