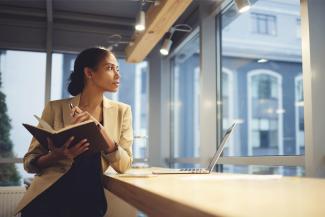 Creating Your Investment Philosophy
A clear investment philosophy is essential to pursuing long-term financial success. Your investment philosophy should be the compass that guides you when creating your investment strategy. Strategies can evolve as life changes, but philosophies are the core beliefs, principles, and practices that typically don't change. In times of market uncertainty, a philosophy may enable you to control your emotions, shut out the noise, and bring your focus back to your long-term goals.
Too often people focus on the short-term market volatility that ultimately may have little to no impact on their long-term strategy. For example, a sudden drop in the market can be concerning, but in time it may be nothing more than a minor blip. An investment philosophy can remind you of that and keep you focused on the process.
Keep Your Investment Philosophy Simple
An investment philosophy doesn't need to be elaborate. You can keep it short and simple while still expressing your core belief. Take Warren Buffett's investment philosophy for example, which is just one sentence: "Buy wonderful businesses at a fair price with the intention of holding them forever." While some people may not grasp the meaning of Buffett's investment philosophy, all that matters is that he does.
Creating your investment philosophy requires an understanding of the markets and familiarity with investment principles and practices. It also requires a deep understanding of your own values, beliefs about money, and comfort level with risk over a long period of time.
By adhering to your investment philosophy, you can navigate the ups and downs of the market with confidence and work towards achieving your long-term financial goals. Remember, investing is a process, and a well-crafted philosophy will serve as your unwavering compass throughout the journey.
---
Information in this material is for general information only and not intended as investment, tax, or legal advice. Please consult the appropriate professionals for specific information regarding your individual situation prior to making any financial decision.  
Email me your questions at info@financialfreedomwmg.com or call 541-574-6464.  You can also post your question on our Facebook page: https://www.facebook.com/FinancialFreedomWealthManagementGroup or find us on Instagram @financialfreedomwmg.