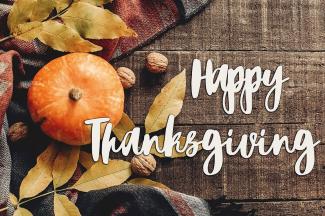 Gratitude With Your Money
Gratitude with Your Money
Thanksgiving Day begins the holiday season and gives us an opportunity to be grateful.  When you think of gratitude and how it relates to your finances, what comes to mind? Maybe how thankful you are to have enough money to cover your needs and wants? The ability to provide a warm meal in your home for your loved ones? Here are three ways to have gratitude with your money:  
Focus on what you have instead of what you don't. One of the best ways gratitude can help improve your finances is taking the focus away from things you want to buy. When you focus more on what you have and why you are grateful for it, you tend to spend less money.
Emphasize what matters most.  When you reflect on what you are grateful for, you may realize what your true priorities are. If you are thoughtful with your spending decisions, you are less apt to overspend. This can help your Thanksgiving be economical and memorable.
Consider charitable giving. Giving and gratitude go hand in hand. When you are grateful for what you have, it often leads to a desire to give to others.
I hope this inspires a different view of your money. As we head into the holiday season, think about your money with an attitude of gratitude.
Information in this material is for general information only and not intended as investment, tax or legal advice. Please consult the appropriate professionals for specific information regarding your individual situation prior to making any financial decision. 
Email me your questions at financial.freedom@lpl.com or call 541-574-6464.  You can also post you question on our Facebook page: https://www.facebook.com/FinancialFreedomWealthManagementGroup 
 1-05214459