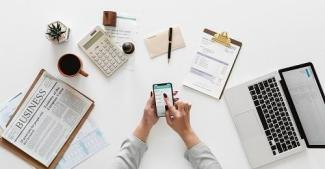 HAVE CONFIDENCE WHILE INVESTING
In a time when many unscrupulous individuals are looking for opportunities to defraud investors, it is more important than ever to be educated about potential dangers. The following information is designed to help you protect yourself.  Many Ponzi schemes share common characteristics.  Look for these warning signs:
High investment returns with little or no risk. Every investment carries some degree of risk, and investments yielding higher returns typically involve more risk.
Overly consistent returns. Investments tend to go up and down over time, especially those seeking high returns. Be suspect of an investment that continues to generate regular, positive returns regardless of overall market conditions.
Unregistered investments. Ponzi schemes typically involve investments that have not been registered with the SEC or with state regulators. Registration is important because it provides investors with access to key information about the company's management, products, services and finances.
Unlicensed sellers. Federal and state securities laws require investment professionals and their firms to be licensed or registered. Most Ponzi schemes involve unlicensed individuals or unregistered firms.
Secretive and/or complex strategies. Avoiding investments you don't understand or for which you can't get complete information is a good rule of thumb.
Issues with paperwork. Ignore excuses regarding why you can't review information about an investment in writing, and always read an investment's prospectus or disclosure statement carefully before you invest. Also, account statement errors may be a sign that funds are not being invested as promised.
Difficulty receiving payments. Be suspicious if you don't receive a scheduled payment or have difficulty getting monies you request. Ponzi scheme promoters sometimes encourage participants to "roll over" promised payments by offering even higher investment returns.
When you consider your next investment opportunity, start with these five questions:  Is the seller licensed?  Is the investment registered?  How do the risks compare with the potential rewards?  Does it sound too good to be true?  Do I understand the investment? 
Where can I turn for help? We would be happy to help you find appropriate investments for your financial future.
Information in this material is for general information only and not intended as investment, tax or legal advice. Please consult the appropriate professionals for specific information regarding your individual situation prior to making any financial decision.
Email me your questions at financial.freedom@lpl.com or call 541-574-6464.  You can also post you question on our Facebook page: https://www.facebook.com/FinancialFreedomWealthManagementGroup