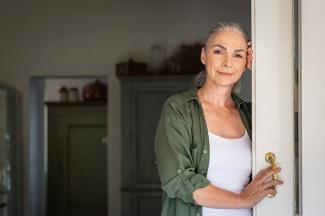 "Life is 10% what happens to you and 90% how you respond to it." — Lou Holtz
As the battle against the COVID-19 pandemic continues, how we respond to it will determine how we beat it. Continued sacrifices range from everyone in the medical community working on the front lines to the thousands of truck drivers across our country keeping goods flowing and parents who have become homeschoolers. As Lou Holtz said, we can't control what happens, but how we respond to it is what matters. Our response to this crisis has shown the resolve and strength of the human spirit, which is why we will overcome.
The responses in the economy and the stock market, however, have shown a disconnect between the two. Tragically, more than 26 million people have filed for unemployment. Historic drops in consumer confidence, retail sales, industrial production, oil prices, and housing starts have shown how quickly our economy has gone from solid growth to virtually stopping in its tracks. Yet, stocks have been soaring the past few weeks. Remember, stocks tend to weaken before the economy, and they tend to lead before the economy turns around. Stocks see light at the end of the tunnel before the economy feels it, and the big move recently may be a sign the economy could turn around later this year.
This recession—though not officially declared yet—is unlike any other. It wasn't caused by the virus itself, but by the government telling people to stay home in an effort to flatten the curve. The government can't simply turn on a switch to get things back to normal, but with all of the stimulus making its way through the system, it's possible this could be one of the shortest recessions ever.  We aren't out of the woods yet, and the economic data and headlines may get worse before they get better, but our response to this crisis reinforces our confidence that the future remains bright.
Please stay healthy and do not hesitate to contact me if you have any questions or concerns.
Information in this material is for general information only and not intended as investment, tax or legal advice. Please consult the appropriate professionals for specific information regarding your individual situation prior to making any financial decision.
Email me your questions at financial.freedom@lpl.com or call 541-574-6464.  You can also post you question on our Facebook page: https://www.facebook.com/FinancialFreedomWealthManagementGroup