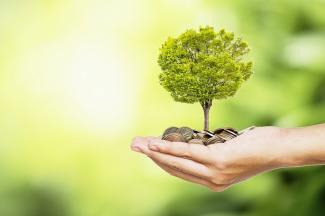 Investing to Restore Our Earth
On April 22, the world marked the 51st annual Earth Day. This year's theme was Restore Our Earth. It represents a chance to learn about the environmental challenges we face today, how to become more involved and ways to align one's personal choices to make a positive impact.
One way to make a positive impact is through sustainable investing. Not only does sustainable investing help fortify returns with its unique focus on risk management, it also aligns an investor with investee companies seeking to improve their environmental, social and governance (ESG) impacts.
Sustainable investment portfolios can provide increased transparency, align with investee companies that publicly disclose their efforts to improve their ESG impacts and utilize asset managers that fulfill a stewardship role by holding investee companies accountable to improve their ESG impacts.
Responsible investing, or sustainable investing, is the explicit inclusion of ESG risks and opportunities in investment analysis. This investment approach allows for increased awareness of what is in a portfolio through the process of ESG investing.  This allows for alignment with what matters to the investor by using screens and ESG integration.  It also calls for accountability on the part of the asset manager to act as a steward of the investor's assets through active engagement with the investee company.
Asset managers can utilize increased awareness from ESG investing to decide whether to avoid, reduce or increase exposure to an investee company. This process helps an investor align with an improvement story—investee companies that are intentionally striving to improve their environmental impact. For example, to limit carbon exposure in a portfolio, an asset manager may avoid all carbon-extracting companies (i.e., oil or coal). Alternatively, using a scorecard approach, the asset manager may only include those companies that have the best environmental scores, which is known as a "best-in-class" approach.
Increasingly, more investors are adopting a sustainable investing approach to align their investment portfolio with companies seeking to make a positive impact. Please let us know if this is important to you. we will be happy to answer any questions and share our sustainable investment portfolio with you.
Information in this material is for general information only and not intended as investment, tax or legal advice. Please consult the appropriate professionals for specific information regarding your individual situation prior to making any financial decision.
Email me your questions at financial.freedom@lpl.com or call 541-574-6464.  You can also post you question on our Facebook page: https://www.facebook.com/FinancialFreedomWealthManagementGroup