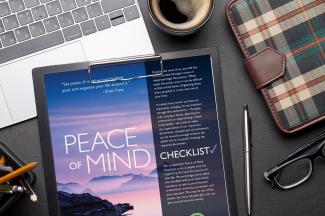 Here at Financial Freedom Wealth Management Group, we do everything in our power to help our clients prepare for a successful future. One aspect of this is to be prepared for the unexpected. If you are like most of us, your life has been recorded through a series of important legal documents. When major life events occur, it can be difficult to find critical items. Organizing those items properly is a wise use of time.
Our lives are constantly changing and as we transition through life's experiences – changing jobs, buying a home, planning for retirement or experiencing a death in the family – we come to value the organization of our important documents. Unexpected circumstances can be stressful enough without the added worry of quickly locating the required documents. Individuals often wait until the last minute to gather their important documents, but nothing is more valuable than organizing your information before your family needs it!
For this reason, we created a Peace of Mind Checklist, which is a simple tool for organizing the vital documents of your life. This checklist includes location reminders for important documents like your Birth Certificate, Social Security Card, Passport, Will, Health Care Directive and more. This checklist can be found in our Resource Center.
We encourage you to share your completed checklist with your close family members, as well as your financial professional, attorney, accountant and executor. This may be one of the easiest but most valuable gifts you can give yourself and your family.
Information in this material is for general information only and not intended as investment, tax or legal advice. Please consult the appropriate professionals for specific information regarding your individual situation prior to making any financial decision.
Email me your questions at financial.freedom@lpl.com or call 541-574-6464.  You can also post you question on our Facebook page: https://www.facebook.com/FinancialFreedomWealthManagementGroup