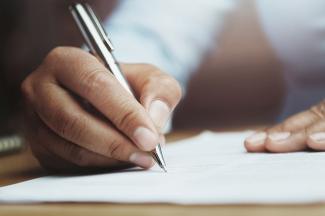 Having helped several widows and children deal with the loss of a loved one this year has me thinking about some advice for you.  Most people don't spend too much time thinking about their own funeral, and yet, many of us have a vision about our memorial service or the handling of our remains. A letter of instruction to your family can help bring comfort to them and convey your wishes.
A letter of instruction is not a legal document; it i­­­­­s a letter written by you that provides additional, more personal information regarding your estate. It can be addressed to whomever you choose, but typically, letters of instruction are directed to the executor, family members or beneficiaries.
Think of a letter of instruction as a "cheat sheet" to your estate. Here are a few ideas and concepts that may be included:
The location of important documents, such as your will, insurance policies, titles to automobiles, deeds to property, latest tax return, Social Security statements, etc.
A list of financial assets, including savings and checking accounts, stocks, bonds, pension or profit-sharing plans and retirement accounts. Be sure to include account numbers, PINs and passwords where applicable.
The location of any safe deposit boxes and their keys.
Information on your social media accounts and how they can be accessed.
Burial or cremation wishes. May also include which songs or speakers you would like at your memorial service.
There is no "best way" to write this letter. It can be written in your style and reflect your personality, or it can be written simply to convey information. Although a letter of instruction is not legally binding, your heirs will probably be glad to know how you want to be remembered.
---
Information in this material is for general information only and not intended as investment, tax or legal advice. Please consult the appropriate professionals for specific information regarding your individual situation prior to making any financial decision.
Email me your questions at financial.freedom@lpl.com or call 541-574-6464.  You can also post you question on our Facebook page: https://www.facebook.com/FinancialFreedomWealthManagementGroup