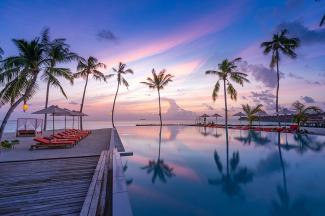 One of the most anticipated comebacks of 2021 isn't an athlete, rock star, or movie franchise. It's summer travel, and it appears to be back with a vengeance.
Travel agents are working 14-hour days to meet the needs of eager travelers. People aren't just taking road trips, either; airports are reporting being at 80% of pre-COVID capacity, while the TSA screenings reached two million for the first time since the pandemic. While these reports may be slightly less than pre-COVID, they also reflect an industry working to meet demand in the midst of new safety requirements, many of which place limits on the number of passengers and indoor occupancy at airport gates.1,2
If you're planning to take a trip this summer, bear in mind that prices for gas and tickets don't merely reflect recent inflation, but an increased demand. AAA reports that hotel bookings in Las Vegas, Anaheim, and San Diego are seeing a pronounced uptick. Bear that in mind if you're not necessarily looking for population density this year.3 
These summer travel stats show an industry in recovery and a nation eager to get out of the house.  As our recovery broadens to include travel and hospitality industries, it will most likely maintain the momentum we've seen in the stock market.   Whatever your travel plans might be, I hope you enjoy the season and stay safe!
1. WJHL.com,June 15, 2021
2. Tumlo23.com, June 15, 2021
3. KCRA.com, June 15, 2021
Information in this material is for general information only and not intended as investment, tax or legal advice. Please consult the appropriate professionals for specific information regarding your individual situation prior to making any financial decision.
Email me your questions at financial.freedom@lpl.com or call 541-574-6464.  You can also post you question on our Facebook page: https://www.facebook.com/FinancialFreedomWealthManagementGroup