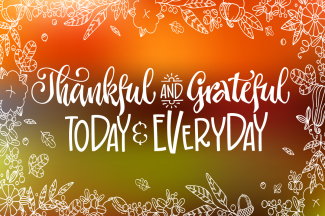 As we approach the 2020 holiday season, this will no doubt be unlike any in the past.  Family gatherings and holiday travel will be harder as our world continues to battle coronavirus. Families have lost loved ones and the holiday season can be hard to get through. I believe being thankful and expressing thankfulness is a start in overcoming these adversities.  
Families are struggling with high unemployment, and small businesses are forced to shut down. Media messages are constantly telling us to buy more, do more, look like this or act like that. Choosing to be thankful helps overcome these distractions and gives appreciation for what you have right now. Often, we do not need more, we need to focus and be thankful for what we do have. A focus on thankfulness leads to contentment. 
The holidays represent a stressful time for many of us. Reflecting on what we are thankful for actually reduces stress. "Gratitude research is beginning to suggest that feelings of thankfulness have tremendous positive value in helping people cope with daily problems, especially stress," says University of California Davis psychology professor Robert Emmons. He goes on to explain that gratitude and optimism can even boost our immune system. Being thankful keeps us healthy!
The Thanksgiving holiday can cultivate our thankful hearts and generate those warm and fuzzy feelings. It provides an opportunity to count our blessings and feel gratitude, which make us feel good. What if every day we make this choice to choose to be thankful and experience the side benefits of gratefulness all year long? That is my wish for you! Happy Thanksgiving, everyone.
Information in this material is for general information only and not intended as investment, tax or legal advice. Please consult the appropriate professionals for specific information regarding your individual situation prior to making any financial decision.
Email me your questions at financial.freedom@lpl.com or call 541-574-6464.  You can also post you question on our Facebook page: https://www.facebook.com/FinancialFreedomWealthManagementGroup