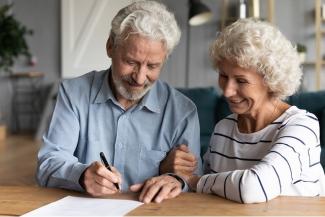 Your Love Letter for a Lasting Legacy
Coping with the death of a loved one is difficult.  We constantly encourage our clients to make sure that they have a completed estate plan for their death.  This typically involves working with an attorney to execute a will and/or a trust, ensuring their financial assets transfer properly to their beneficiaries.  Getting the financial legacy in place helps the survivors tremendously, but we often see a void that is left. A void that a love letter might help the loved ones left behind heal.  What is a love letter?
Your love letter is a gift – of time, love and clarity. It is a legacy for the living filled with all the important things to serve as a roadmap for your family to follow. A legacy is a part of a person that lives on long after that person has passed.  Your love letter should include stories, values, hopes, dreams and desires for your family.  A love letter compliments the legal planning and legacy documents you may have prepared. It can bring clarity, reduce stress and minimize the conflicts which often follow a death.  It attaches your 'voice,' giving your loved ones the insight and direction that you want to provide them at these challenging times.
It is estimated that 70% of wealthy families will lose their wealth by the second generation and 90% will lose it by the third.  I believe this happens because, all too often, we pass on the financial assets without telling the love story and values that were learned building those assets.  Educating your beneficiaries and leaving a legacy with both financial and intangible assets are important pathways for the future generations to follow or to be guided by in order to make better decisions in life.
Please visit our website at www.financialfreedomwmg.com/resources to learn more about how to write a love letter that could help your loved ones heal after you are gone and continue your legacy.
Information in this material is for general information only and not intended as investment, tax or legal advice. Please consult the appropriate professionals for specific information regarding your individual situation prior to making any financial decision.
Email me your questions at financial.freedom@lpl.com or call 541-574-6464.  You can also post you question on our Facebook page: https://www.facebook.com/FinancialFreedomWealthManagementGroup