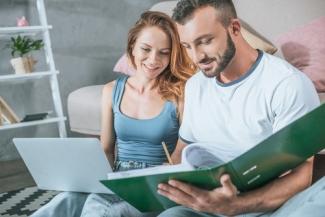 Building Your Financial Literacy Library
A library is a source of knowledge, and knowledge is empowering. Financial literacy is having both the knowledge and the power to manage your personal and business finances. To be successful, build upon your financial literacy library. Taking this action will put these resources at your fingertips and enable you to make educated decisions at the right time.
It Takes Time
Building your library won't happen
overnight, it will take time to develop. Like any new skill that you are learning, it helps to go at your own pace. It's easy to compare yourself to other people that might be going through a similar process, but everyone learns differently. Comparing yourself to others will only create negative feelings. It is also important to celebrate your progress, even if it's just a small step in the journey.
Resources Are Constantly Evolving
In the age of the Internet, there is a constant flow of information that is easily accessible. This is why it's important to make sure the sources you are looking at are accurate. It is also important that the authors you read are credentialed and have relevant experience. As you conduct your research, make sure that the resources you are referencing are up to date. For example, you don't want to base your financial strategy on outdated IRA contribution information.
As you continue to build your library, find the mediums that are easiest for you to consume. Whether it be through books, podcasts, videos, or other sources, there are a plethora of ways to build your financial literacy library and keep it up to date.
If you are looking for current resources, here are a few we've curated for you to add to your library:
What resource will you use to build the next piece of your library today? 
Information in this material is for general information only and not intended as investment, tax or legal advice. Please consult the appropriate professionals for specific information regarding your individual situation prior to making any financial decision. 
Securities offered through LPL Financial, Member FINRA/SIPC
Email me your questions at financial.freedom@lpl.com or call 541-574-6464.  You can also post you question on our Facebook page: https://www.facebook.com/FinancialFreedomWealthManagementGroup